A few things I've badmouthed (or otherwise) recently:
Over at io9, I talk about some things Universal can keep in mind when
adapting those fourteen Anne Rice vampire books they just bought
. (I didn't realize I had any feelings about it, but then suddenly I was thirteen and buying a copy of Premiere magazine I still own with a huge behind-the-scenes article that fascinated me as much as the movie did.) Surely for something that ambitious they have a game plan, but if they haven't already considered the toxic-aristocrats angle of enormously rich vampires who literally feed off the lower classes AND the angle where they eat hearts and stomp around in huge immortal snits, then now's the time to consider them, is all I'm saying.
At Philly Weekly, I talked a little about
Frank
, a dark comedy I really enjoyed, even though I will probably never again sit through the scene in which Domhnall Gleeson "casually" mentions he can write songs and then has to trot out four or five banal non-starters under the withering stares of the rest of the band. A magnificent scene, of which one viewing was likely enough.
Over at AV Club, I reviewed
Happy Valley
, which is a very tense, often bleak story of crime in a small town and the officer who ends up investigating half by accident. The performances are all pitch-perfect and the depth of its lead role – a policewoman in the twilight of her forties with a complicated home life and career setbacks – is fantastic. It helps that the miniseries manages to avoid the worst cliches of either, and left some interesting ambiguities (among a few things that felt a little easy). Let me stress that while I found it totally absorbing, I was not kidding about the "grueling" part either; the first Sally Wainwright thing I ever saw was Sparkhouse, the Wuthering Heights modern retelling with bonus genderflip (and a tiny baby Holliday Grainger), so I was prepared for hours of bleakness with tiny glimpses of hope. That turned out to be for the best.
AV Club is also celebrating its 1994 week. In the midst of preparing a pitch about Hackers for 1995, because I will never not want to talk about that movie, I participated in an
inventory of pop-culture notables from '94
, including The Crow, the beginning of Turner Classic Movies, and four Chinese art-house flicks that made their mark. And in other things that remind me of decades past, I'll start recapping the so-X-Files-you-can't-imagine The Intruders this weekend!
In life stuff, I went to the Met with a friend, and found these two statues of women and their monsters.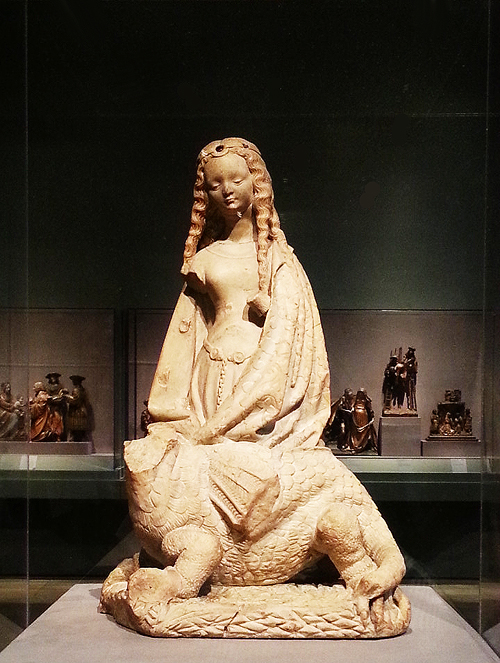 On the left, Domenico Guidi's "Andromeda and the Sea Monster," moments before the rescue (one hopes). On the right, a 15th century statue of St. Margaret of Antioch, who was swallowed by a dragon but secured her release by making the sign of the cross, at which she burst forth whole from its body.